Rakeback at the Poker Sites
A majority of profits poker players make come from their skills at the tables. Their main focus is to best their opponents and make money either from cash tables or multi-table tournaments. However, a portion of the overall winnings, especially for serious players, comes from something called rakeback.
You may have heard these terms mentioned in articles and on forums; however, for those new to online poker, they may seem a bit unclear. The goal of this article is to answer questions such as "What is rake?" "What is rakeback?" and, most importantly, "How can these help me make more money in the long run?"
Our Best Choice
Bonus up to $600 + $30 Free Chip
What Is Rakeback, and How Does It Work?
As mentioned, rakeback can play a significant role in a poker player's overall bottom line. However, what some of you may be wondering is what really is rakeback, and where does this additional money come from? To answer this, we first need to define rake and explain this concept as it is the foundation for any rakeback a player may stand to get from a site.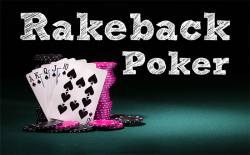 Games such as hold'em, Omaha, 5 Card Draw and other poker variations where players play against one another aren't your typical casino games. They aren't played against the house, which means the casino doesn't have an inherent edge that's present in other games such as roulette or blackjack. At the same time, they must make some money for their efforts to set up and run the games.
This compensation is achieved through the rake. In cash games, the rake is taken out of almost every pot played. It is a small percentage of the total pot, usually capped at a certain maximum amount, and this percentage goes to the poker room. In tournaments, rake is added to the buy-in. For example, a $12 tournament might have $10 or $11 of every buy-in going into the prize pool, and $1 or $2 is the rake, and it is taken by the poker room.
Rakeback is a percentage of the total rake that the room gives back to the players. For example, if you generate $200 in rake and have a 50% rakeback deal, you'd get $100 at the end of the month regardless of whether you win or lose at the tables. The reason poker operators decide to do this instead of keeping all the profits is to try and attract more players their way. The online poker market is competitive; therefore, attracting players and getting them to stay can be quite tricky.
How Is Rake Calculated?
Different poker rooms have various methods of calculating rake; thus, there is not a single formula that works here. However, sites across most networks adhere to one of the three methods that have been around for a while. These methods are the following:
Dealt rake – All players dealt into the hand are assigned an equal share of the rake.
Contributed – The rake contribution is assigned based on the player's total participation in the pot
True Value (TVR) – It is a special method that starts with contributed rake but looks at other aspects as well.
We've already mentioned that rake usually represents a percentage of a pot at cash game tables or a percentage of a buy-in in tournaments. What's important for the players to know is that rake tends to be higher on smaller stakes (percentage-wise), which contributes to making small stakes hard to beat even where the level of play is fairly low. Thus, a good rakeback deal is equally as, if not even more, important for small-stake players as it is for those grinding serious stakes.
Bonus up to $600 + $30 Free Chip
Bonus up to $400 + $88 Free Chip
Why Is Rakeback Good for the Players?
It really isn't all that hard to figure out why rakeback benefits players. It is additional profit on top of whatever you make during a day, a week, or a month; therefore, it effectively increases your hourly win rate or your ROI. It is also a great proposition because it can help reduce the variance in the games because even during really bad months, you'll still get some money back.
One additional benefit of rakeback is that it helps motivate players to play more. When you have a good deal, you know that you're generating a nice profit every time you play even if you break even. This helps fill up the tables and creates more traffic for the room; thus, it works for everyone involved.
How Does a Player Get Rakeback?
There are several ways through which players can get rakeback. The simplest one is through the room they're playing at. Most poker rooms offer their own rakeback program in one way or another, giving players something back for their play. These are available to all, and you'll get them automatically by signing up with a room.
The other way, which usually offers better deals, is through websites like ours. This is how players can get much more enticing offers and earn much more money back for their play. These custom deals are often in high demand, especially from serious players who consider every aspect before joining a particular room.
How Much Can One Earn with Rakeback?
No single, fixed number would accurately describe how much a player can earn from rakeback. This depends primarily on two factors: how big the rake is at the stakes they play and what kind of a deal they have. These deals can be anywhere from around 30% to 70%+; therefore, the range is quite wide.
In general, however, a player can expect to earn a fair chunk of money from a decent rakeback deal. It will also depend on how much time they spend playing and how many tables they tend to play at the same time. Overall, though, serious players will get a decent boost to their bankrolls with every new rakeback payment.
PokerStars
Bonus up to $600 + $30 Free Chip
Read Review
Americas Cardrrom
Bonus up to $1,000 + 27% Rakeback
Read Review